AUTOMOBILE COMPANY ENGINE PLANT – OVERVIEW

Machine shop
The machine shop is involved in the Machining of Various Engine parts in a Sequence of operation supported by lean manufacturing system .It consists of five lines namely:
1. Crank Shaft machining (common to both DV and sigma)
2. DV (diesel) Cylinder block machining
3. DV (diesel) Cylinder head machining
4. Sigma (petrol) Cylinder head machining
5. Sigma (petrol) cylinder block machining
Overview of machine shop sigma line:
• The cylinder head and block parts are being imported from Jaya Hind Industries, Pune, Maharashtra, India.
• 3 shifts – 21.34 hours of work per day
• GROSS JPH of 28.7 & 27.1 and Annual Production Capacity of 170 000 & 160 000 for Sigma and DV lines respectively.
• 3 crew – A, B, C to support three shifts
• 20 man heads per line, per crew (Sigma and DV )
• Sigma and DV line Primarily Consists of High Precision 4 axis HMC CNC machines by German manufacturer Mag and Robot Washers by Durr.
• Fully Automated - Crank Shaft Line.
• Five Petrol Variants and Two Diesel Variants are machined in the respective lines
Specifications of Engines Machined at FIPL:
Sigma:
1.19 Low Compression (LC)
1.4 LC
1.4 High Compression (HC)
1. 6 LC
1.6 HCor Ti- vct
DV - 1.4 Tdci& 1.5 Tdci
Quality policy
• Online quality maintenance is carried out on the parts three times a shift and during the engine variants' change.
• The operator carries this out at every station and substation with the help of gauges present
• Three gauges from Italy, namely
1. Attribute gauge - Accuracy Checking
Six Sigma originated from terminology associated with manufacturing, precisely terms associated with statistical modelling of manufacturing processes. The maturity of a manufacturing process can be described by a sigma rating indicating its yield or the percentage of defect-free products it creates. A six sigma process is one in which 99.99966% of all opportunities to produce some feature of a part are statistically expected to be free of defects (3.4 defective features / million opportunities). However, as discussed below, this defect level corresponds to only a 4.5 sigma level. Motorola set a "six sigma" for all of its manufacturing operations, and this goal became a by-word for the management and engineering practices used to achieve it.
II. SIX SIGMA-DMAIC
Refers to a data-driven improvement cycle used for improving, optimizing and stabilizing business processes and designs. The DMAIC improvement cycle is the core tool to drive Six Sigma projects. However, DMAIC is not exclusive to Six Sigma and can be used as the framework for other improvement applications.
Define
The problem is identified by JPH(job per hour), cycle time, and bottleneck concept. This step aims to clearly articulate the business problem, goal, potential resources, project scope, and high-level project timeline. This information is typically captured within the project charter document. Write down what you currently know. Seek to clarify facts, set objectives and form the project team.
JPH-JOB PER HOUR
Chennai Engine Plant, the Current Capacity for DV Block & Bed line, is 170K & their JPHs are 28.7. Capacity enhancement is planned in both the lines with the help of the Lean manufacturing Technique to increase the efficiency of these lines by increasing the JPH.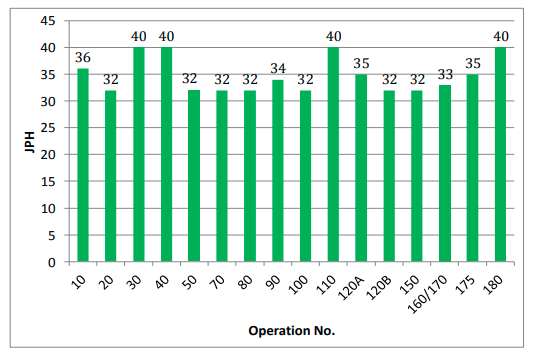 Cycle time
Cycle time describes how long it takes to complete a specific task from start to finish. For example, this task may assemble a widget or answer a customer service phone call.
Now, you can get fancy and segregate value-added cycle time from non-value-added cycle time if you would like.
Cycle time can be measured with a stopwatch.

Bottle Neck Concept

Bottlenecks determine the throughput of a supply chain. Recognising this fact and making
improvements will increase cash flow.
Describe The problem

The OP50 station has high cycle timing and low productivity, that is, 32cylinder block per hour and113 sec per unit. Two workers are working. The work of the station is cylinder block and bedplate assembly. Now the problem is described.
Measure
This step aims to establish current baselines as the basis for improvement objectively. This is a data collection step which is to establishes process performance baselines. The performance metric baseline(s) from the Measure phase will be compared to the performance metric after the project to determine whether significant improvement has been made. The team decides on what should be measured and how to measure it. It is usual for teams to invest much effort into assessing the suitability of the proposed measurement systems.
Method Study
Method study is the process of subjecting work to systematic, critical scrutiny to make it more effective and efficient. It is one of the keys to achieving productivity improvement.
It was initially designed to analyse and improve repetitive manual work, but it can be used for all types of activity at all levels of an organisation.
The process is often seen as a linear, described by its main steps of:
Select (the work to be studied)

Record (all relevant information about that work)

Examine (the recorded information)

Develop (an improved way of doing things)

Install (the new method as standard practice)

Maintain (the new standard proactive).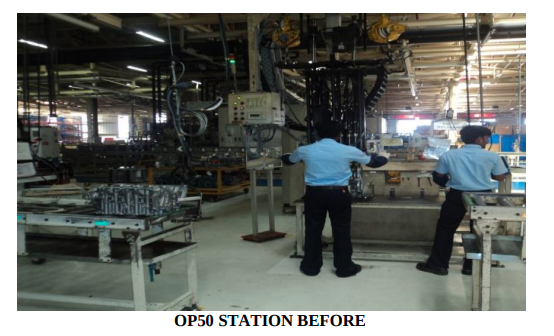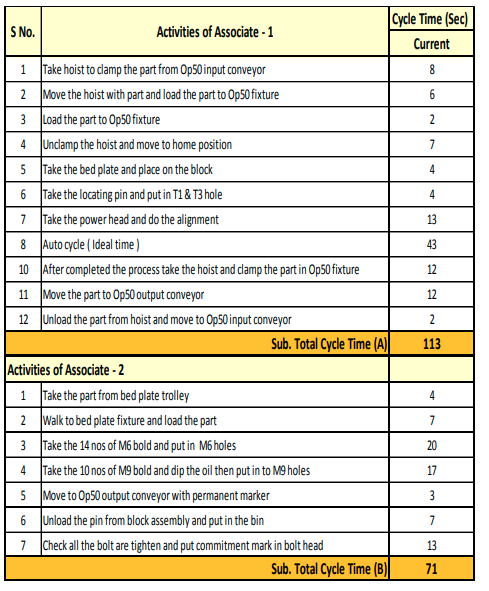 7 WASTES OF LEAN MANUFACTURING
The seven wastes of Lean Manufacturing are what we aim to remove from our processes by removing the causes of Mura and Muri and tackling Muda directly. But what exactly are the seven wastes of Lean Manufacturing (or 7 Mudas)
The Seven Wastes of Lean Manufacturing are;
Transport

Inventory

Motion

Waiting

Over-Processing

Overproduction

Defects
The OP50 station having two heads and having two types lean manufacturing waste found here.
The Waste of Waiting
How often do you spend time waiting for an answer from another department in your organization or waiting for a delivery from a supplier or an engineer to come and fix a machine? We spend an enormous amount of time waiting for things in our working lives (and personal lives, too). This is an obvious waste. The waste of waiting disrupts the flow, one of the main principles of lean manufacturing. It is one of the more severe of the seven wastes or seven mudas of lean manufacturing.
The Waste of Motion
Unnecessary motions are those movements of man or machine which are not as small or as easy to achieve as possible. By this, I mean bending down to retrieve heavy objects at floor level when they could be fed at waist level to reduce stress and time to retrieve. Excessive travel between workstations and excessive machine usage. All movements from start point to work start point are all examples of the waste of motion. All of these were wasteful motions that cost you time (money) and caused stress on your employees and machines. After all, even robots wear out.
WE WILL DISCUSS ANALYSIS IN PART-2 OF OUR ARTICLE - (yet to be published)